Governor Barbara Roberts will serve as the keynote speaker at Silver Linings Luncheon to celebrate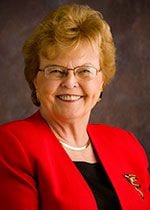 Morrison's 70 years of service in our community. She will speak on the importance of community involvement when addressing issues related to healthy children and families
Barbara Roberts was elected Governor of the State of Oregon in November of 1990, becoming not only the first woman governor of her state but also one of the first 10 female governors in the nation. During her four-year term (1991 to 1995), Governor Roberts was recognized as a strong advocate for environmental management, human rights and civil rights, and creative workforce development. She also became a nationally acknowledged leader in the field of government redesign and reinvention. Click HERE to download her full bio.
Morrison's premier annual fundraising event will be held Wednesday, March 15, in the Governors Ballroom of the Sentinel Hotel, featuring a new program video and booths with representatives from all of our programs to share information about their work.
The annual donor appreciation event is open to all friends of Morrison. Silver Linings Luncheon is an opportunity for guests to network with other business and community leaders, all dedicated to restoring childhood, rebuilding families, and renewing hope. Get acquainted with other members of Portland's compassionate community, the generous citizens who support Morrison and the children, teens, and families we serve.
For more information on how you can get involved or attend, please visit the Silver Linings Luncheon events page or contact us at 503-258-4244, Deanna.Kavanaugh@morrisonkids.org.